20+ Years of Experience
MerchLabs was founded with over 20 years experience developing web solutions in the entertainment space. We've launched websites, branding, and online marketing campaigns for celebrities like Lady Gaga, Kanye West, Gwen Stefani, Diddy, and many more. Our experience is the foundation behind all our design collaborations and virtual shop launches.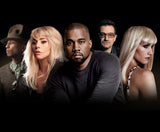 We provide a no risk, turn key merch solution that empowers creators to turn their followers into customers. We take care of all the heavy listing so creators can focus on what they do best.
Create freely. Freely create.
Interested in applying to work with us?