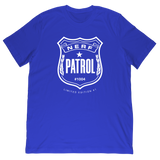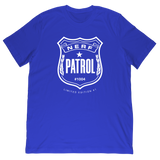 HappyFamily1004 - Dart Patrol Adult Shirt
Hey Guys!  Welcome to our HappyFamily1004 page for our first ever Mystery Gift! 
We are so happy to be able to offer this to you.  It is fun and a surprise. 
It is also a limited edition!   So get them now!
We created it with you in mind to share the unique fun we have together through our HappyFamily1004 videos.
And it is meant to be something that both kids and grown ups can have and share in the experience together.  No matter what your age, you should have one just for you and enjoy it!
We believe you will enjoy having fun together with this Mystery Gift for you and every member of your family and friends.  
Enjoy it when you are playing together, smiling and having fun. 
Of course, it makes a great gift for everyone!   And not everyone will have it except for you if you get it now. 
We wish you all a great and happy holidays.
Thank you for being part of our HappyFamily! 
HappyFamily1004  :)
Presented and curated by Novastar.  Like what you see? :)  Contact at HelloNovastar@gmail.com
Tee Size
Men's Small
Men's Medium
Men's Large
Men's X-Large
Men's XX-Large
Men's XXX-Large
Care Instructions
Machine wash cold, inside out. Hang dry recommended. Do not dry clean.